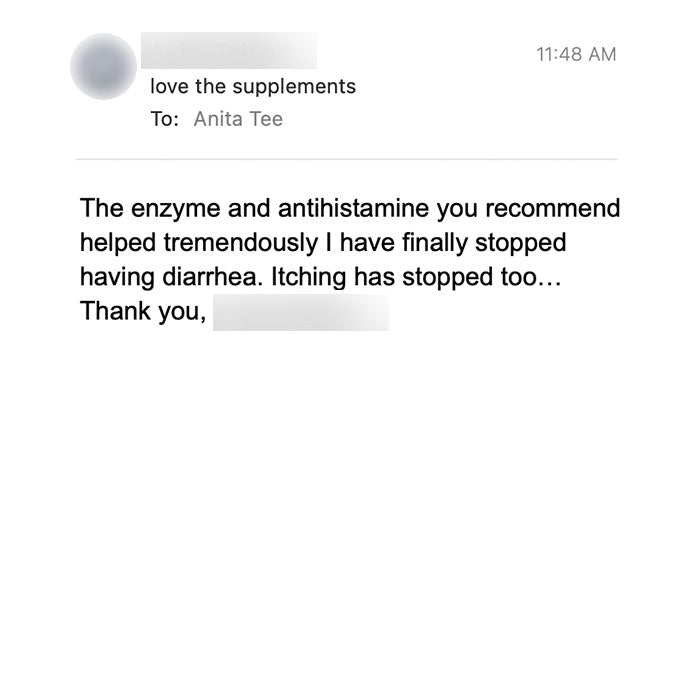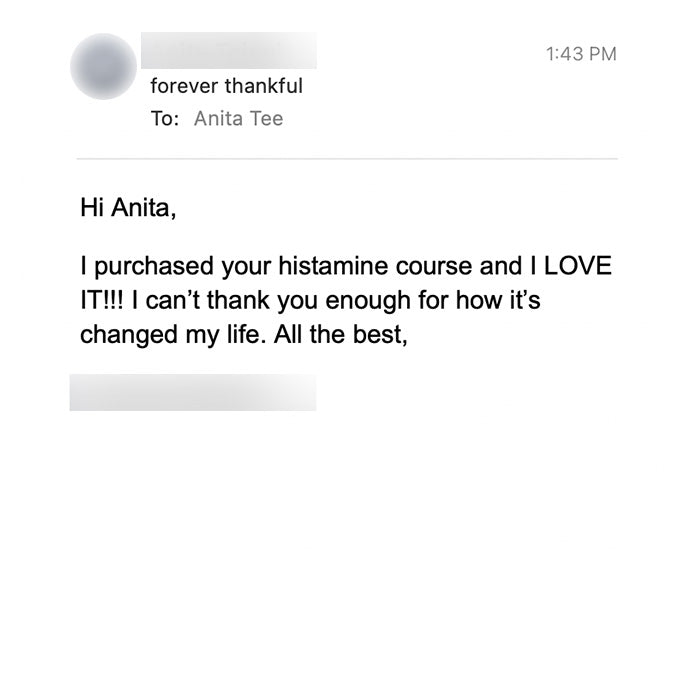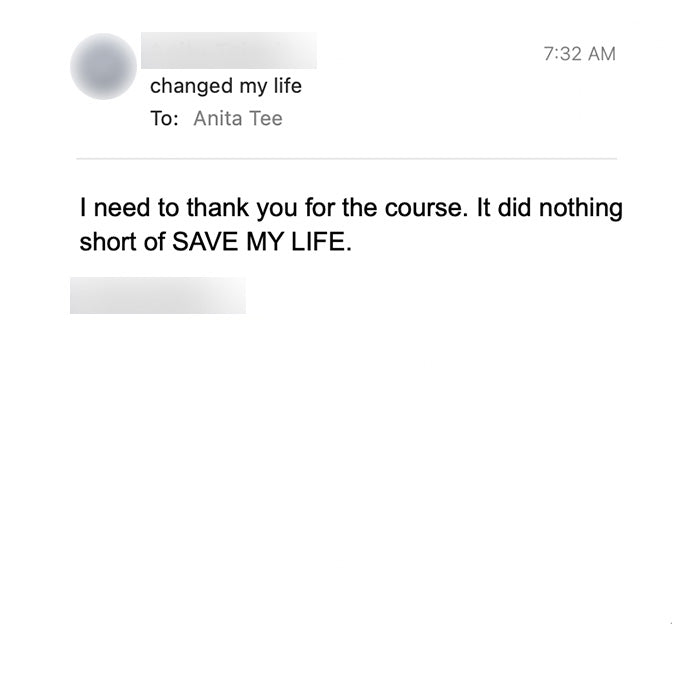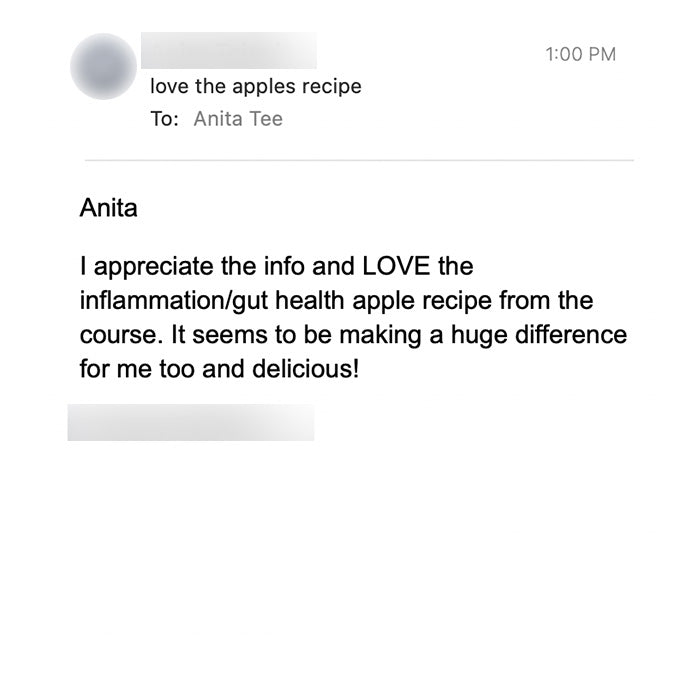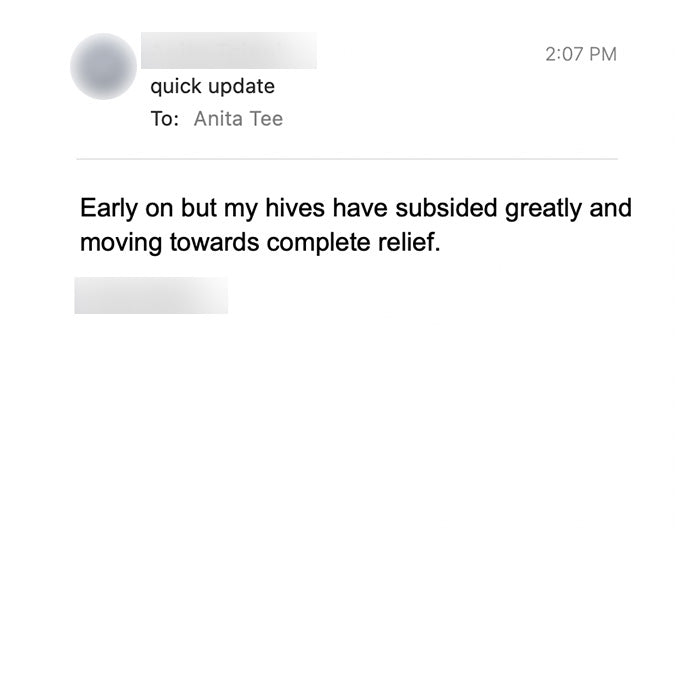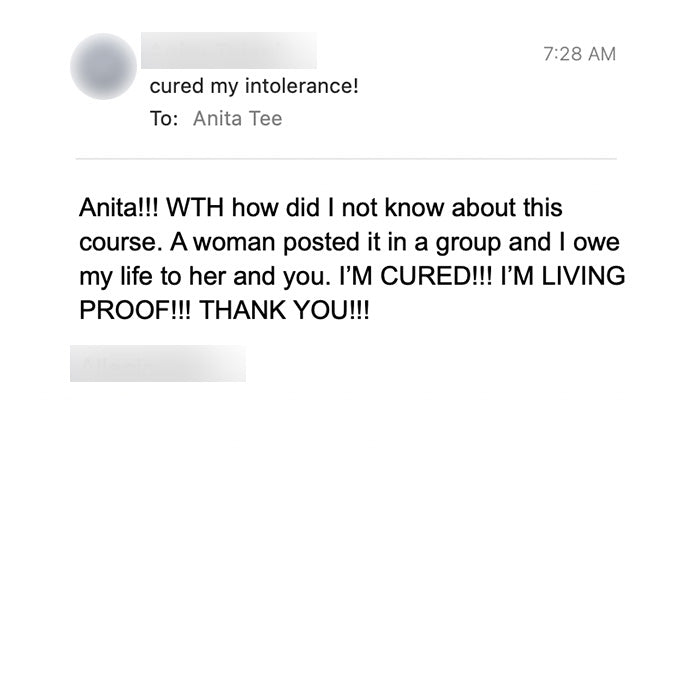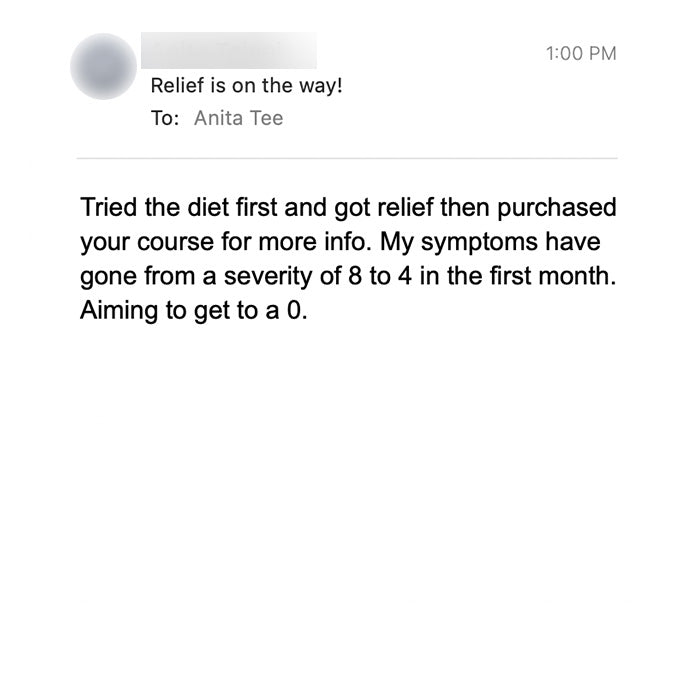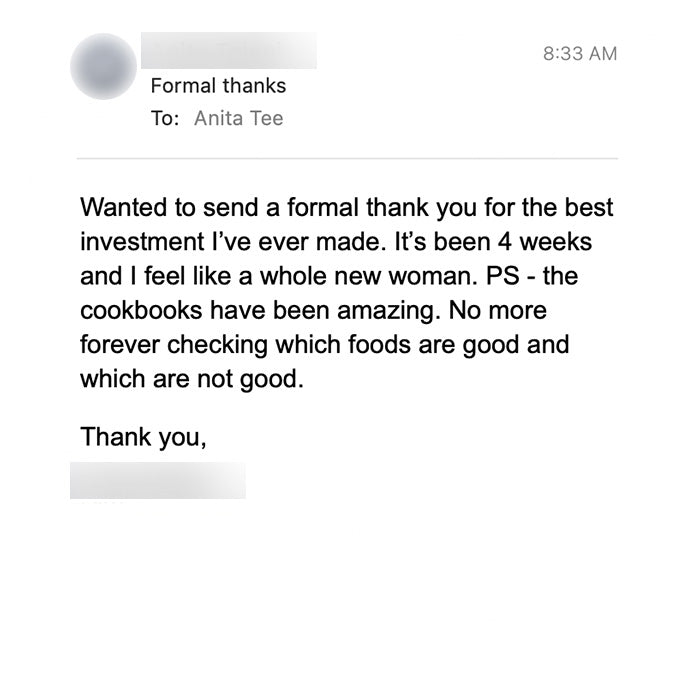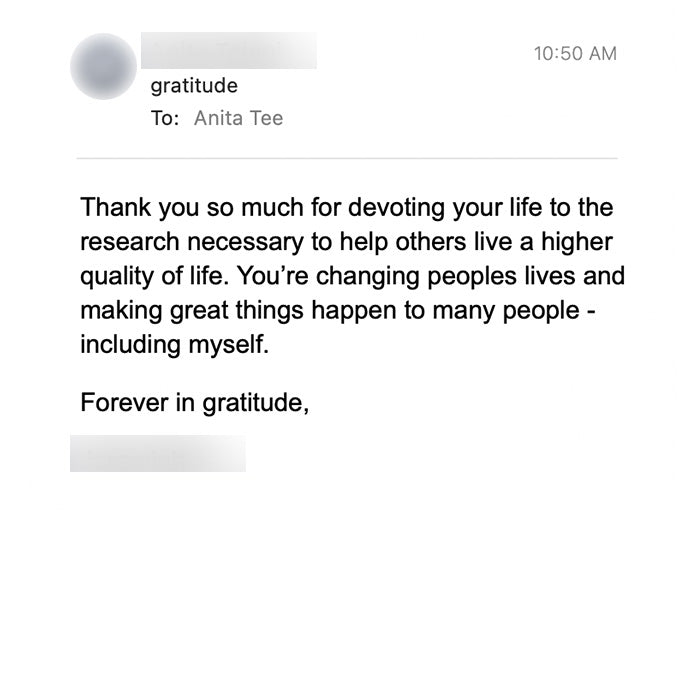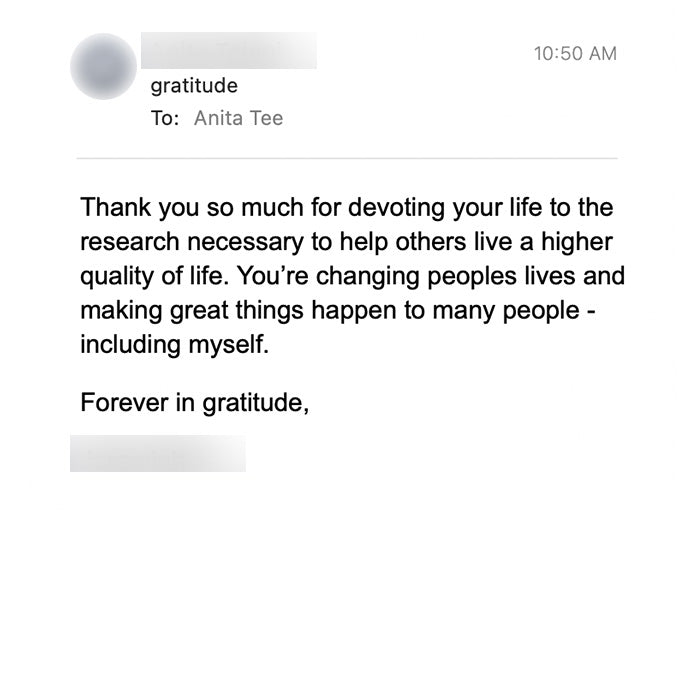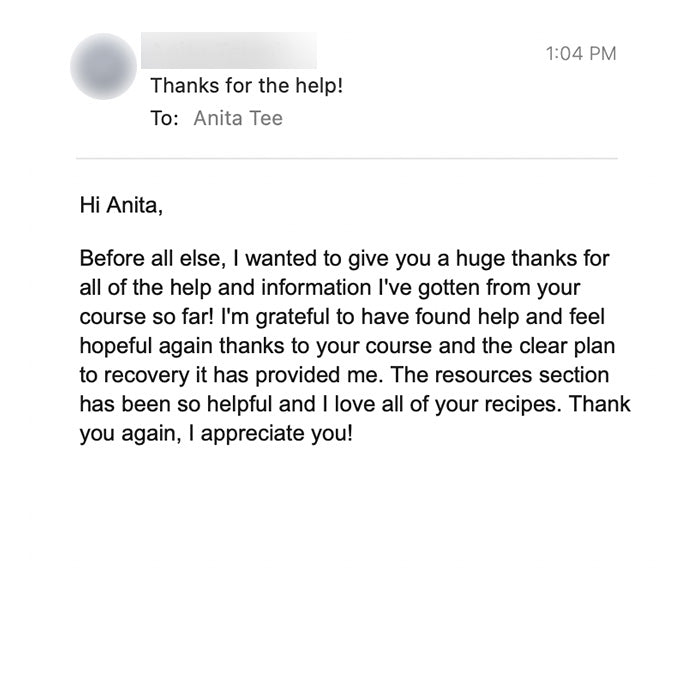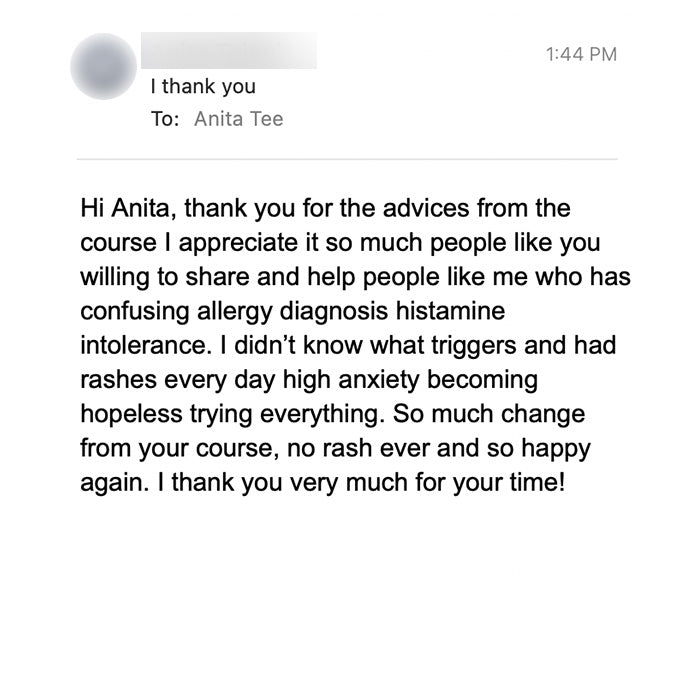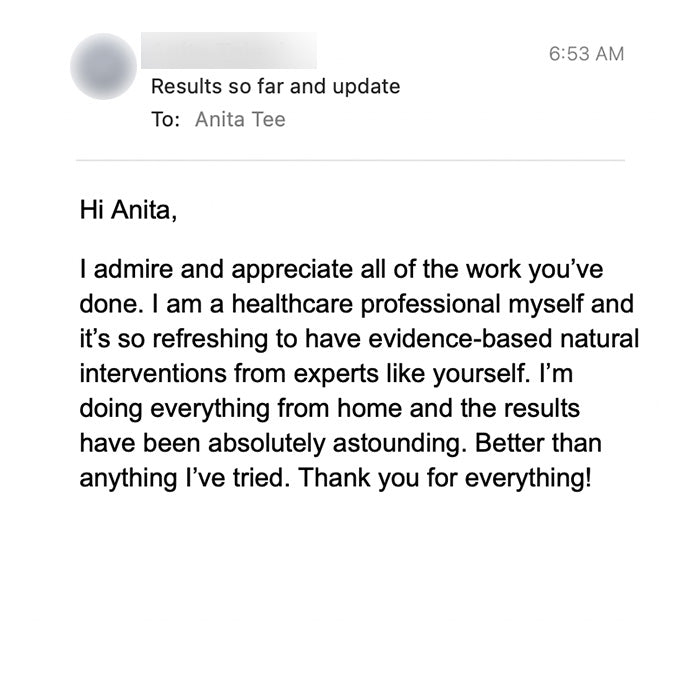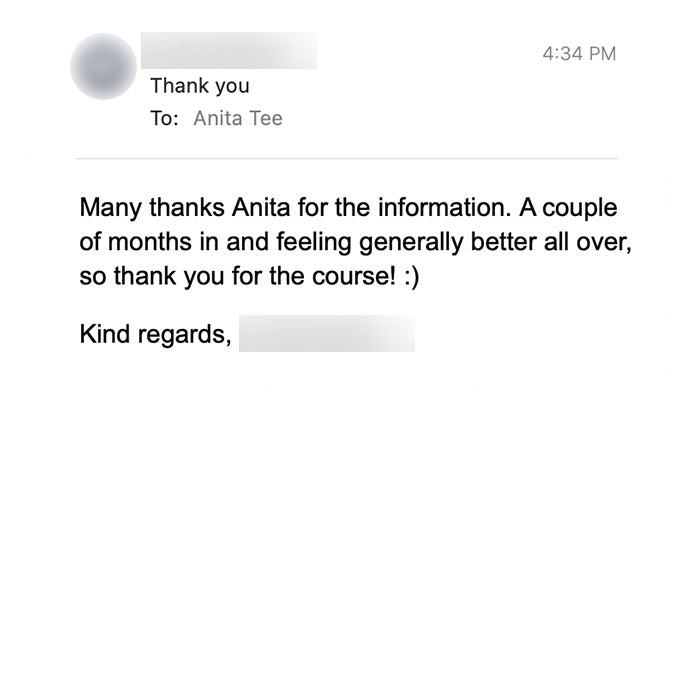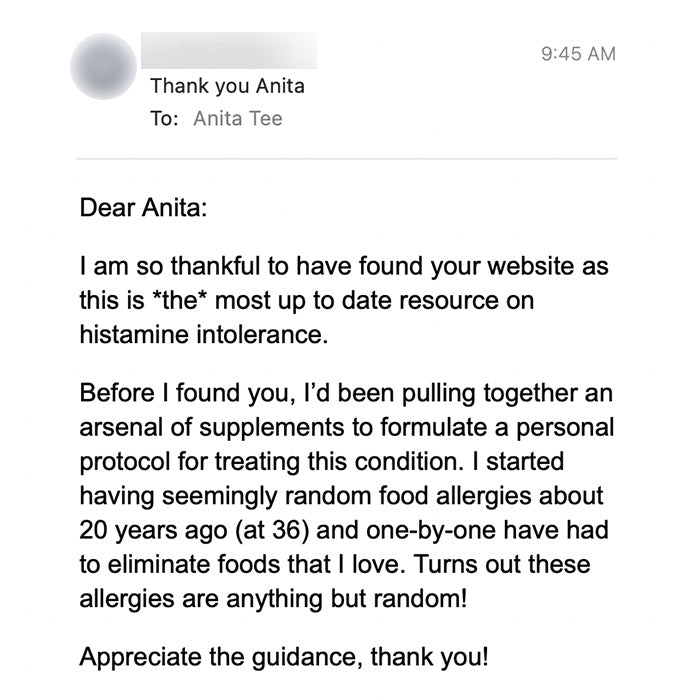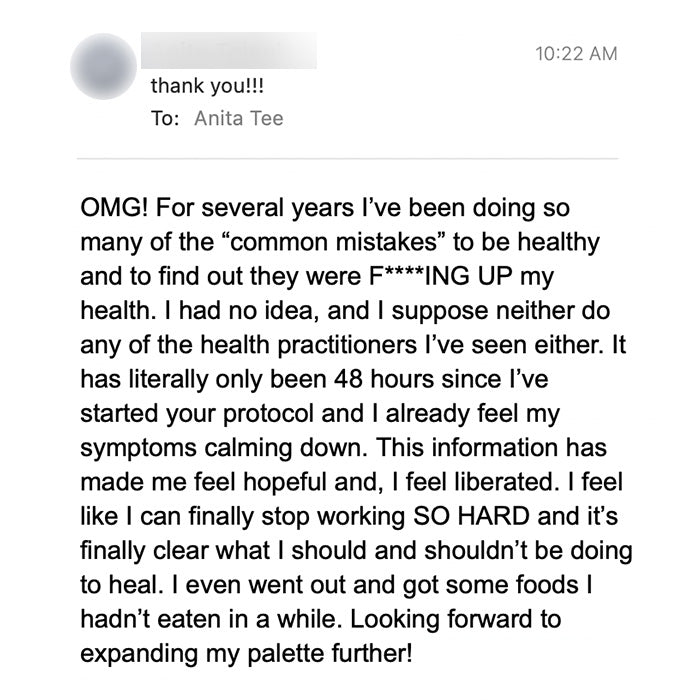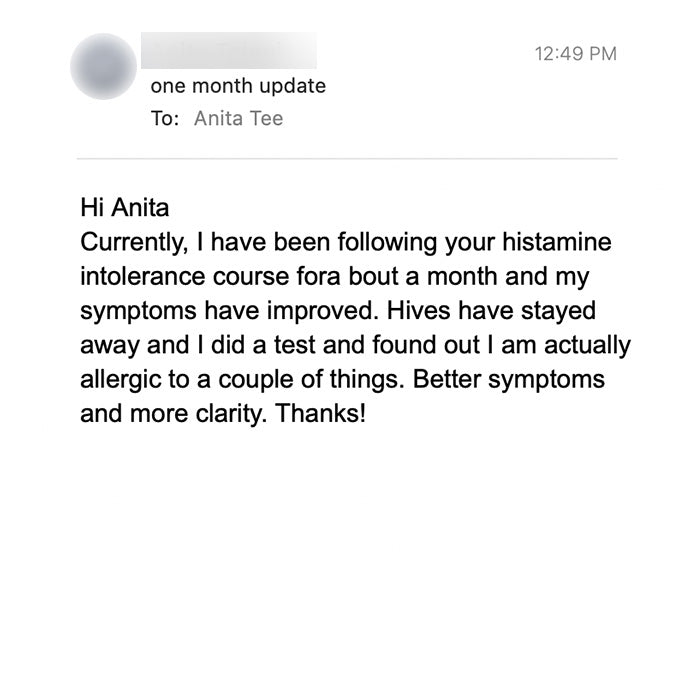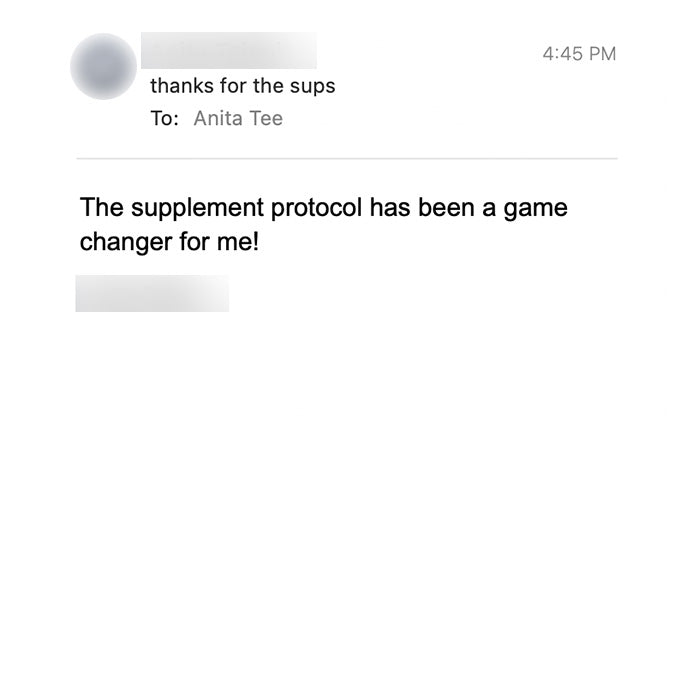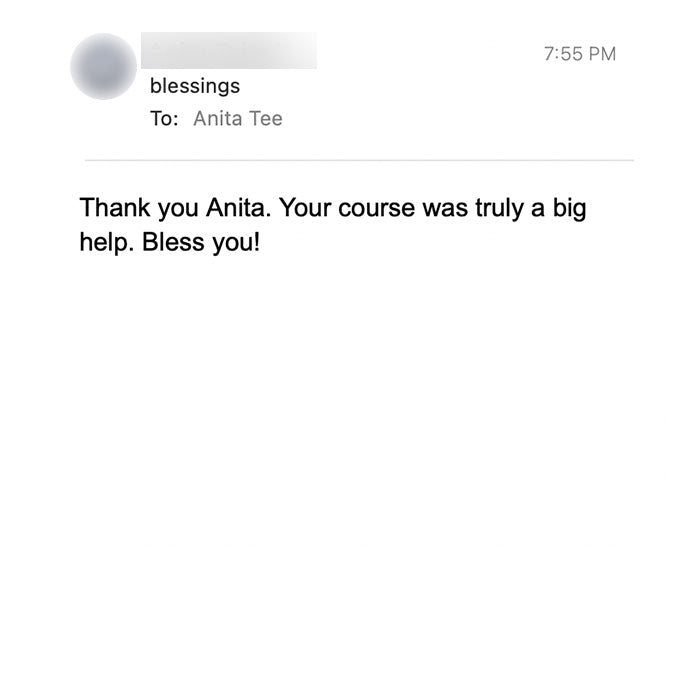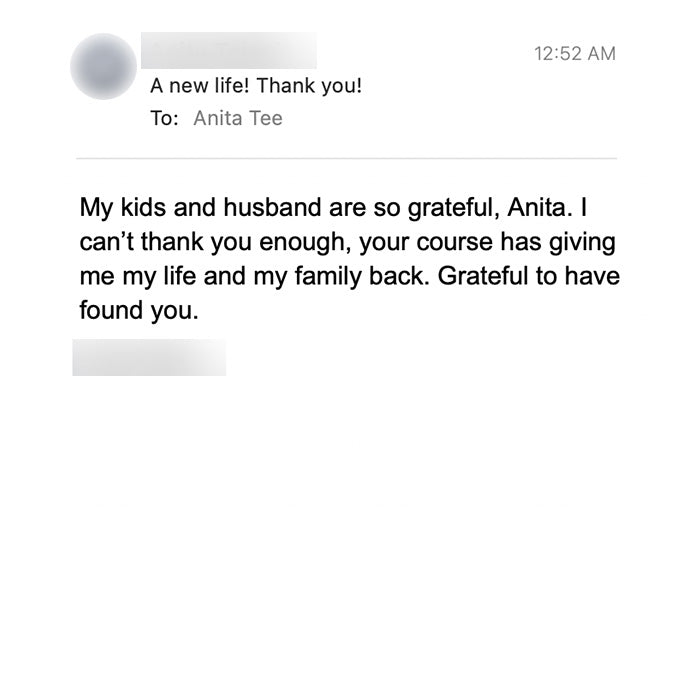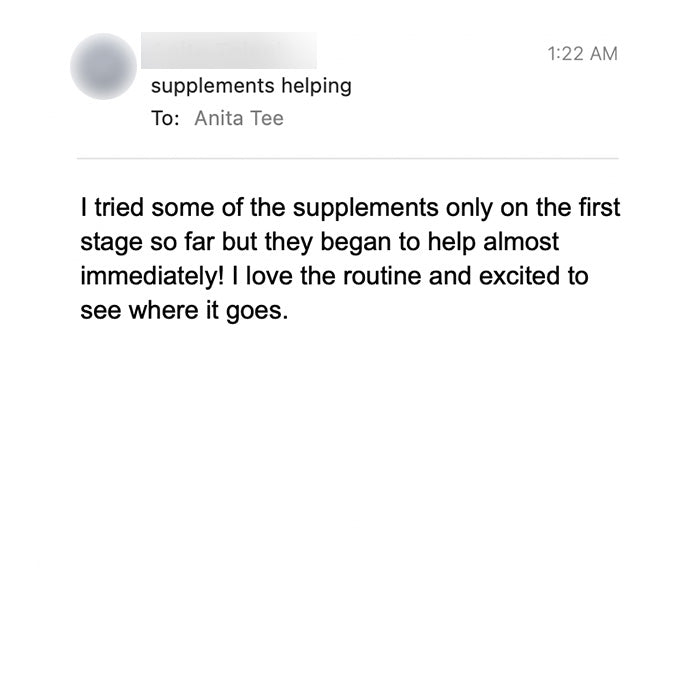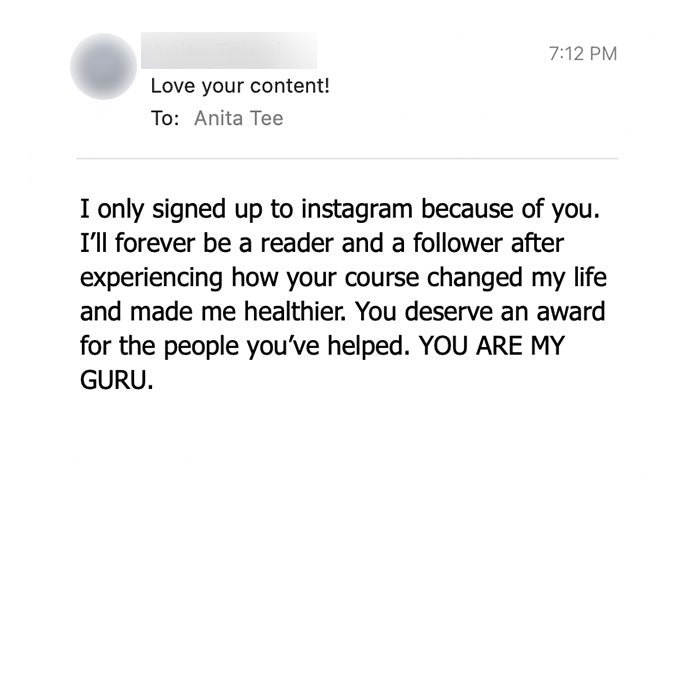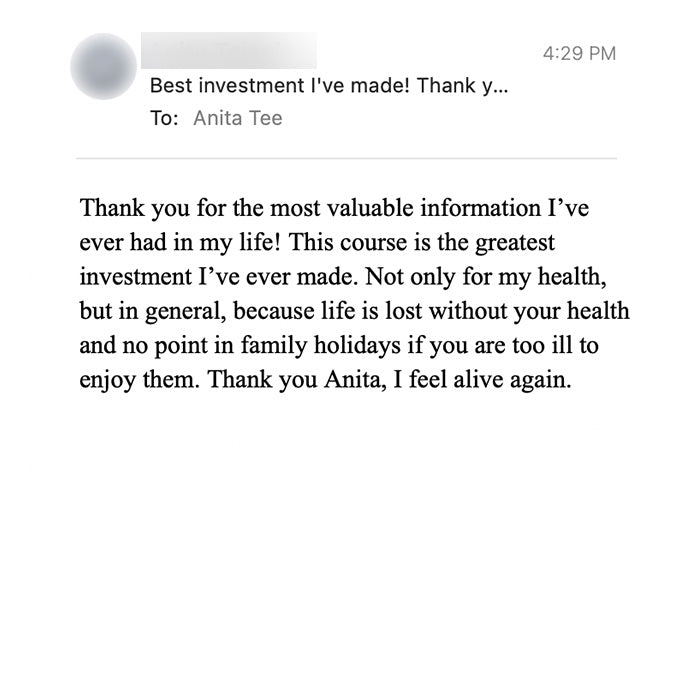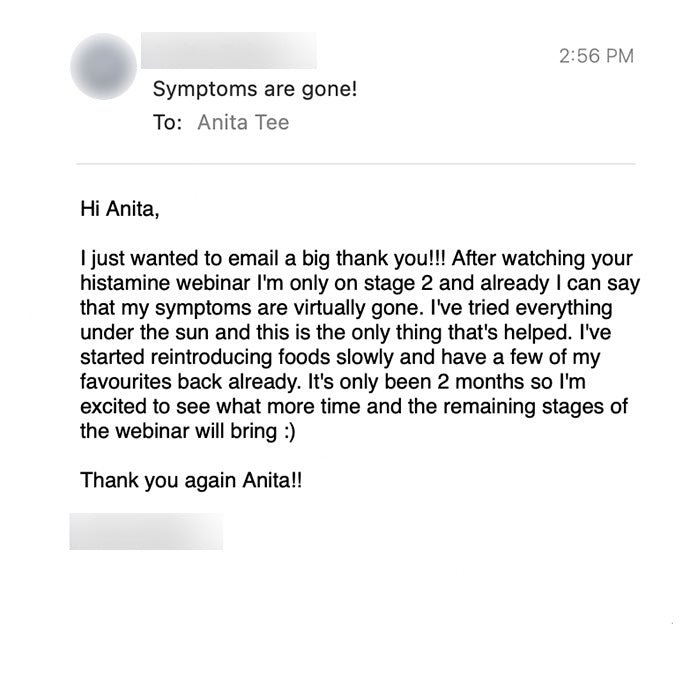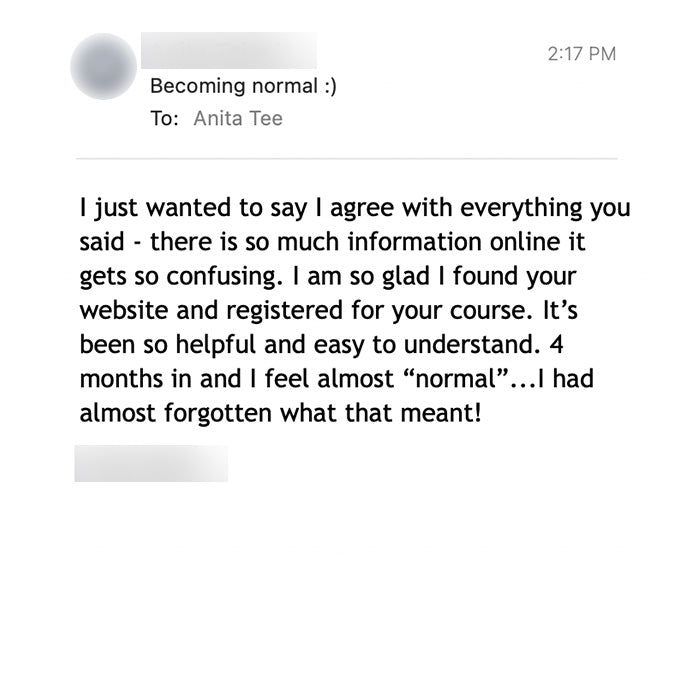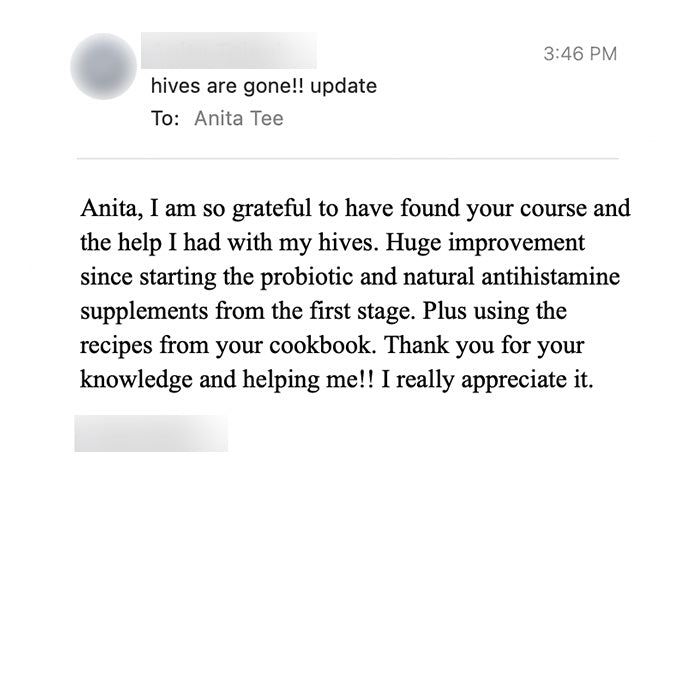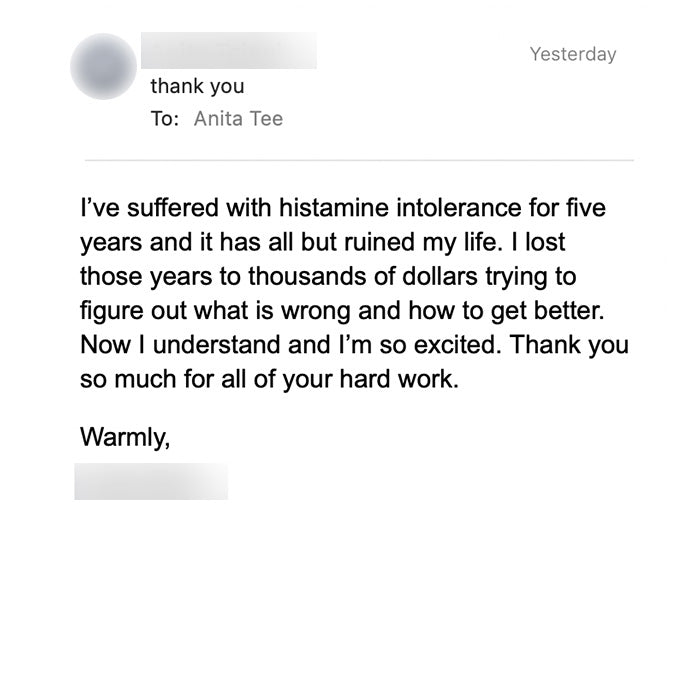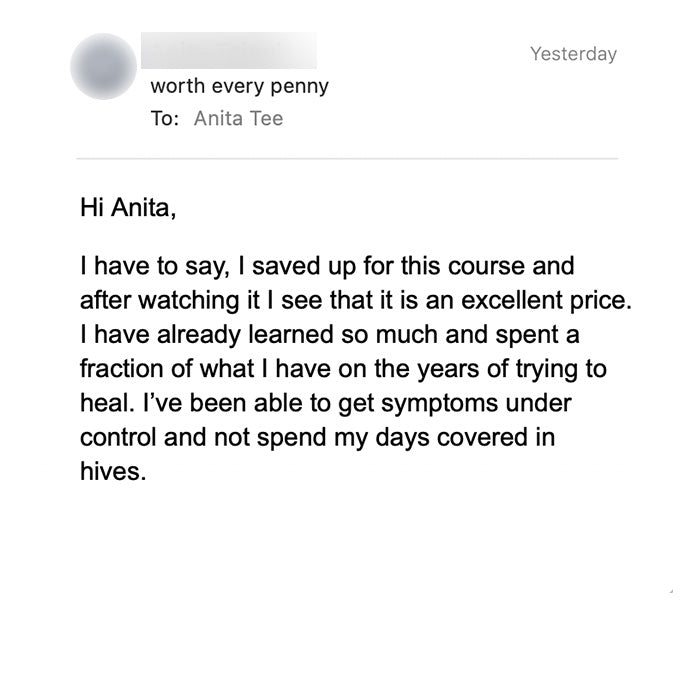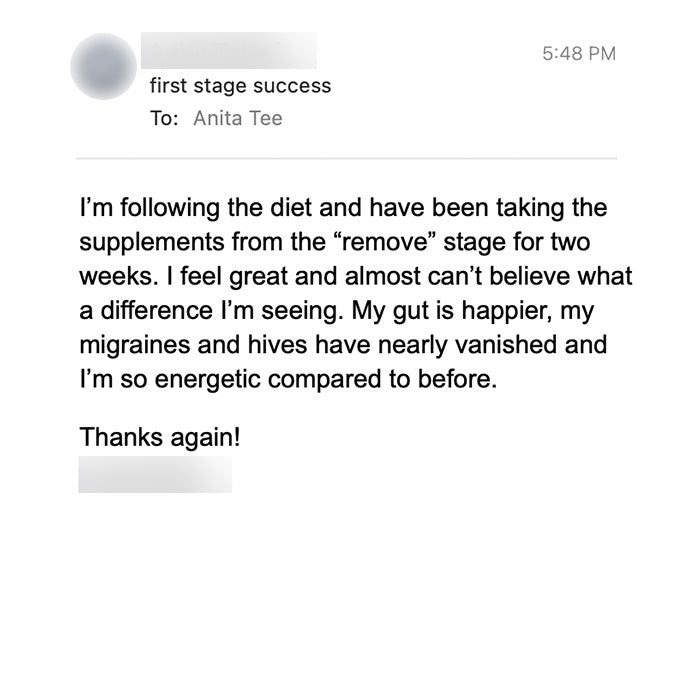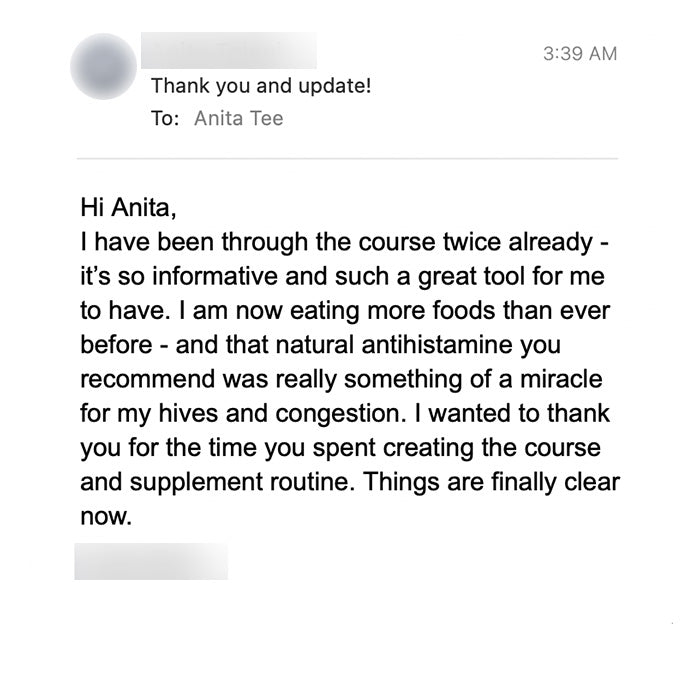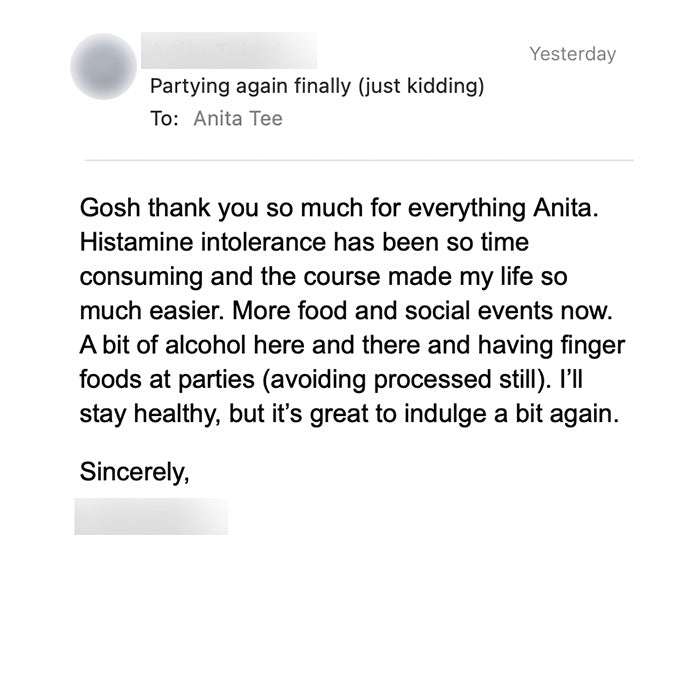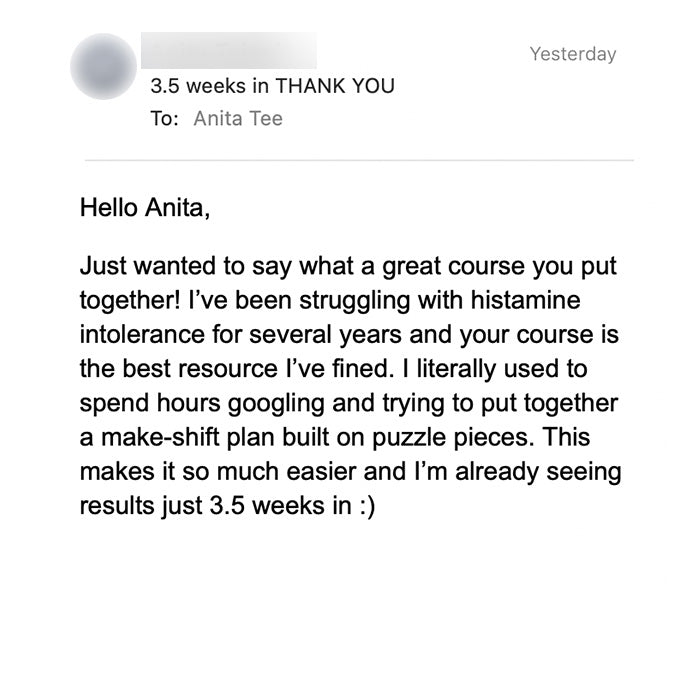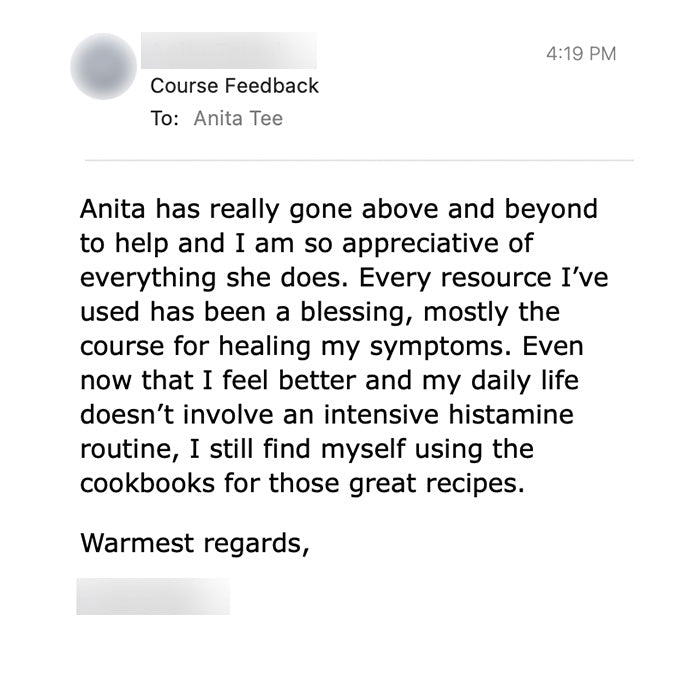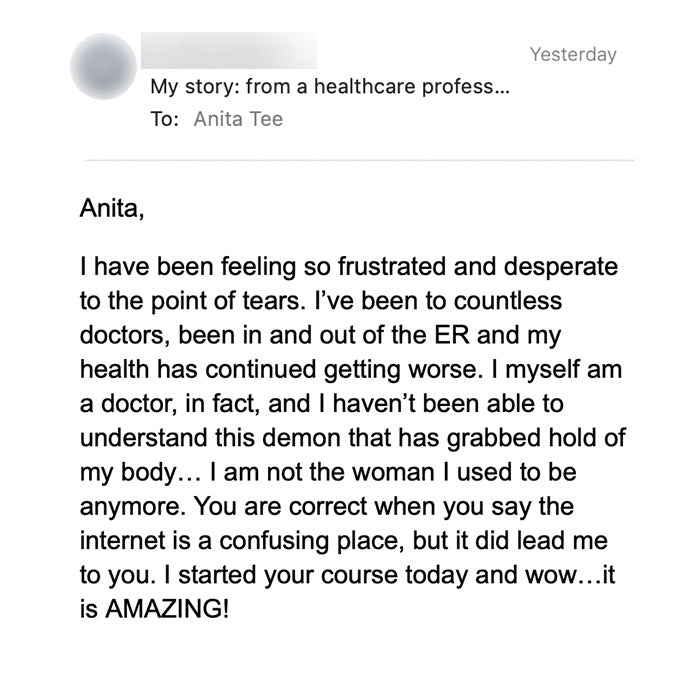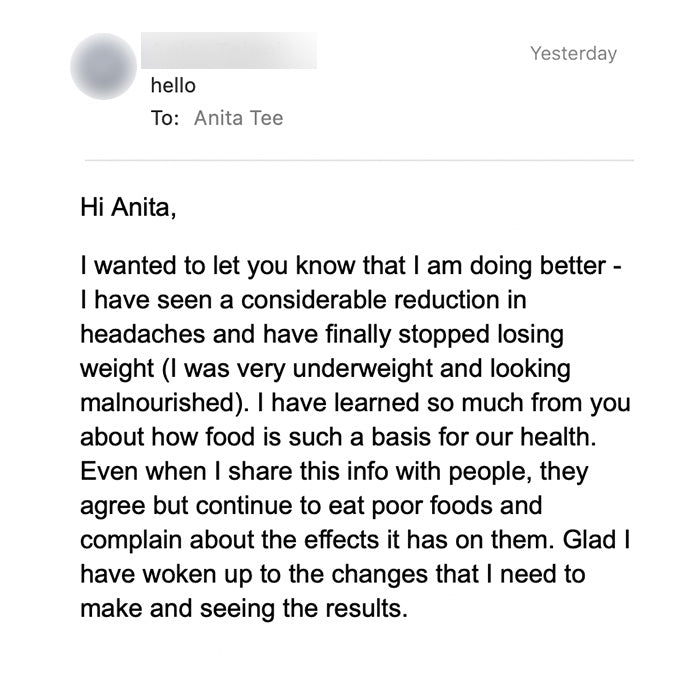 Imagine Your Life Without Histamine Intolerance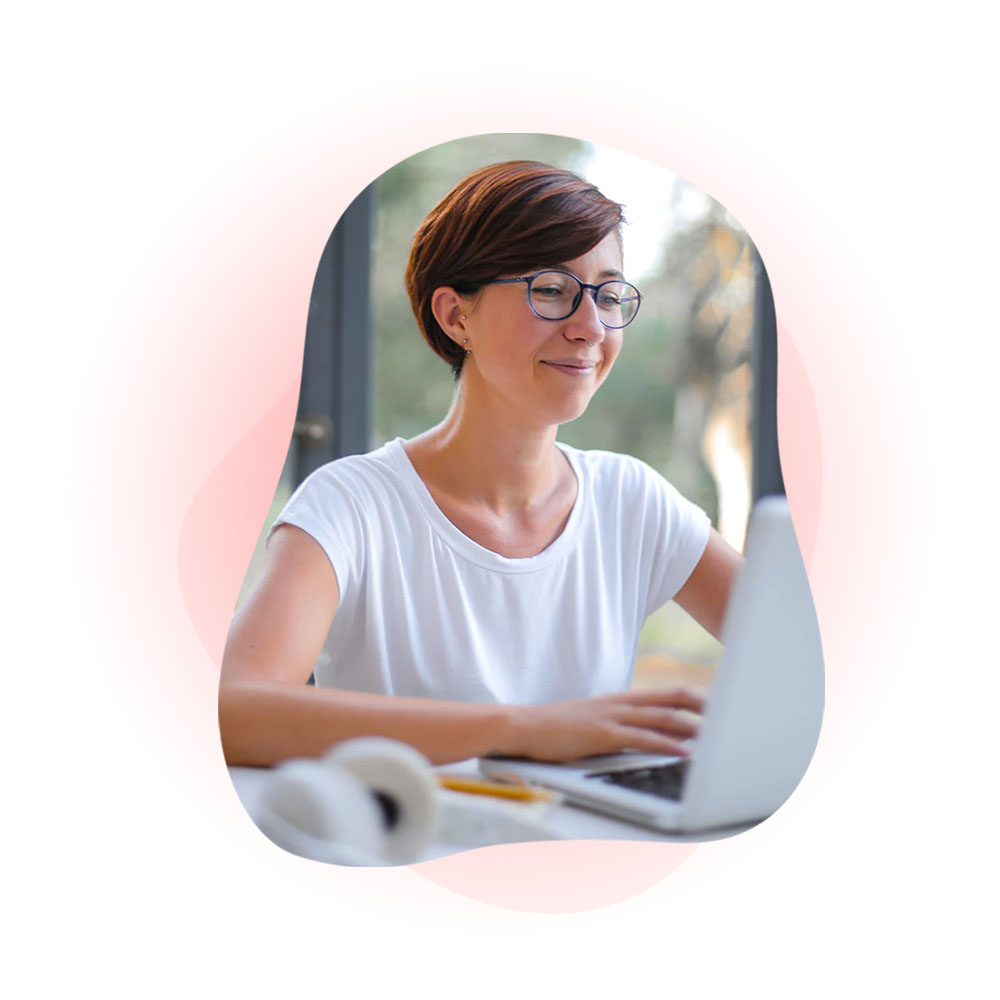 Live Symptom-free

Say bye-bye to skin, digestive, mood and sinus issues

Enjoy worry-free days with friends and family

Focus your energy on doing things you love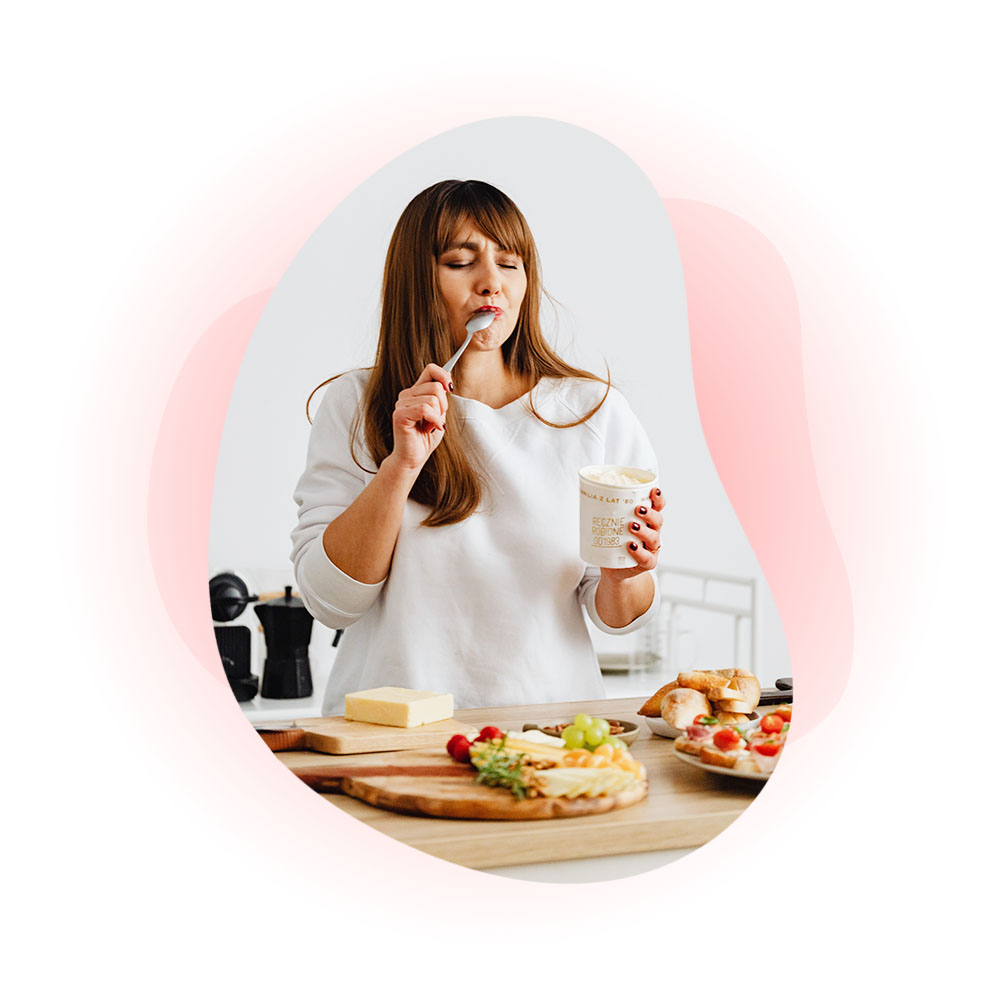 Eat More Of The Foods You Love

No more stressing over meals or allowed foods
Enjoy dining out and socializing again

Have an adventure or take a trip without meal planning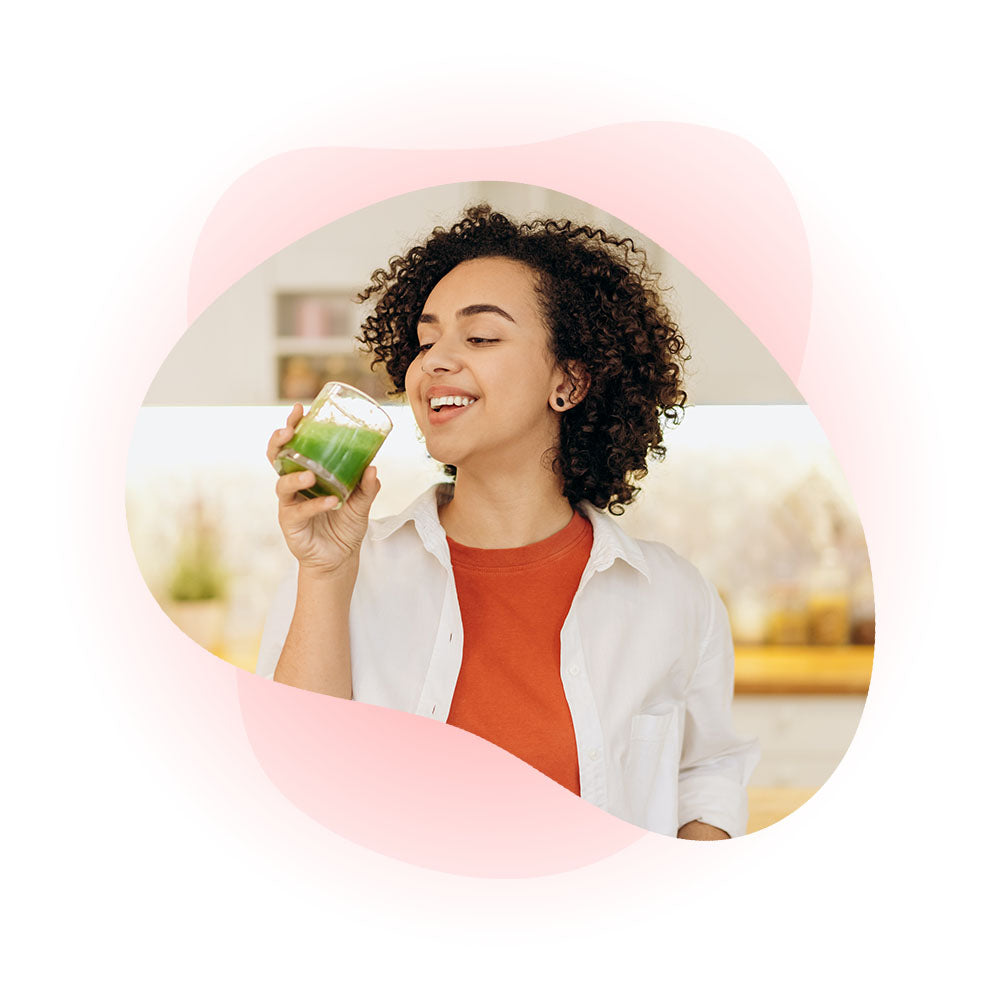 A Life-long Strategy You Can Trust
Learn natural methods to stay symptom-free for good

100% science-backed interventions to fix the root cause

Lifetime support and access to new info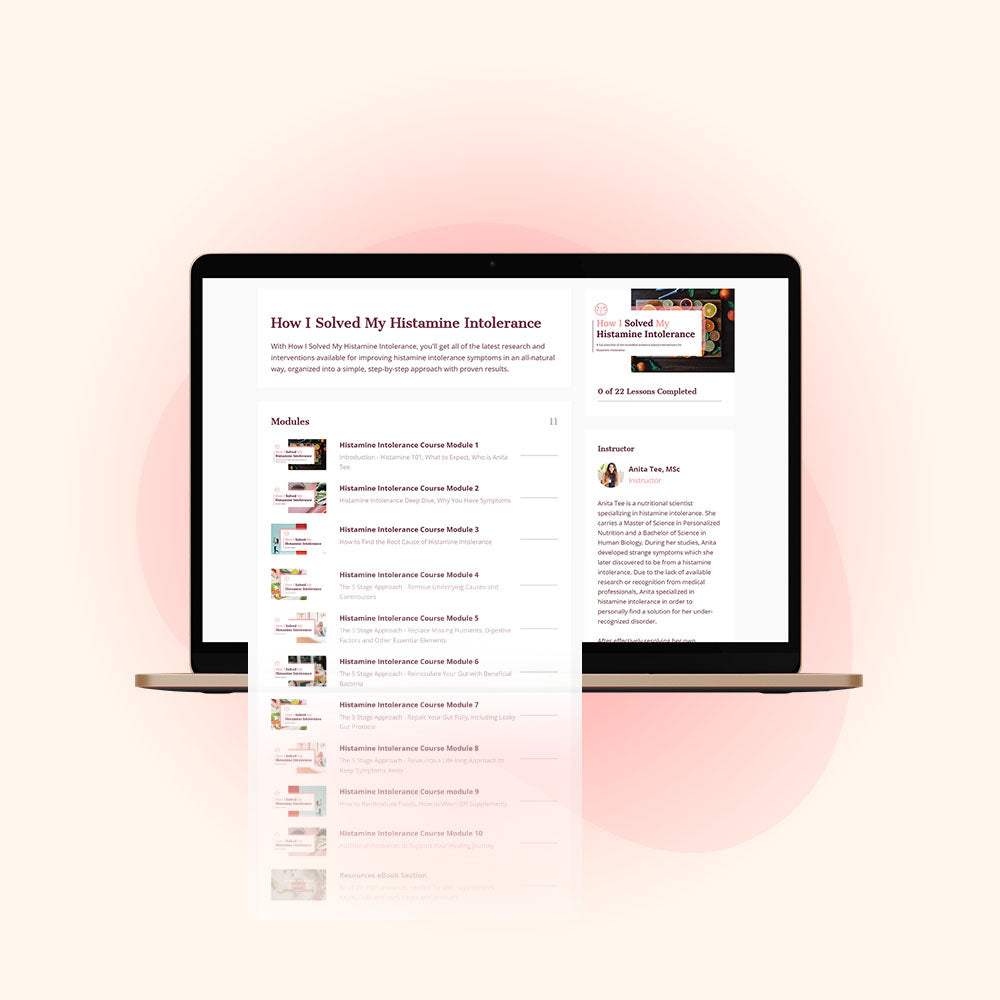 10 Module Video Course

5 education modules covering all you need to know about histamine intolerance

5 intervention modules with step-by-step instructions for each stage of healing

10 hours of video content to watch at your own pace
Get The Course
Check Out A Sample Of The Course
What's Covered In The 5 Education Modules

Discover why symptoms appear in the first place

Understand how histamine intolerance progresses in your body

Learn how to identify your unique root cause in order to fix it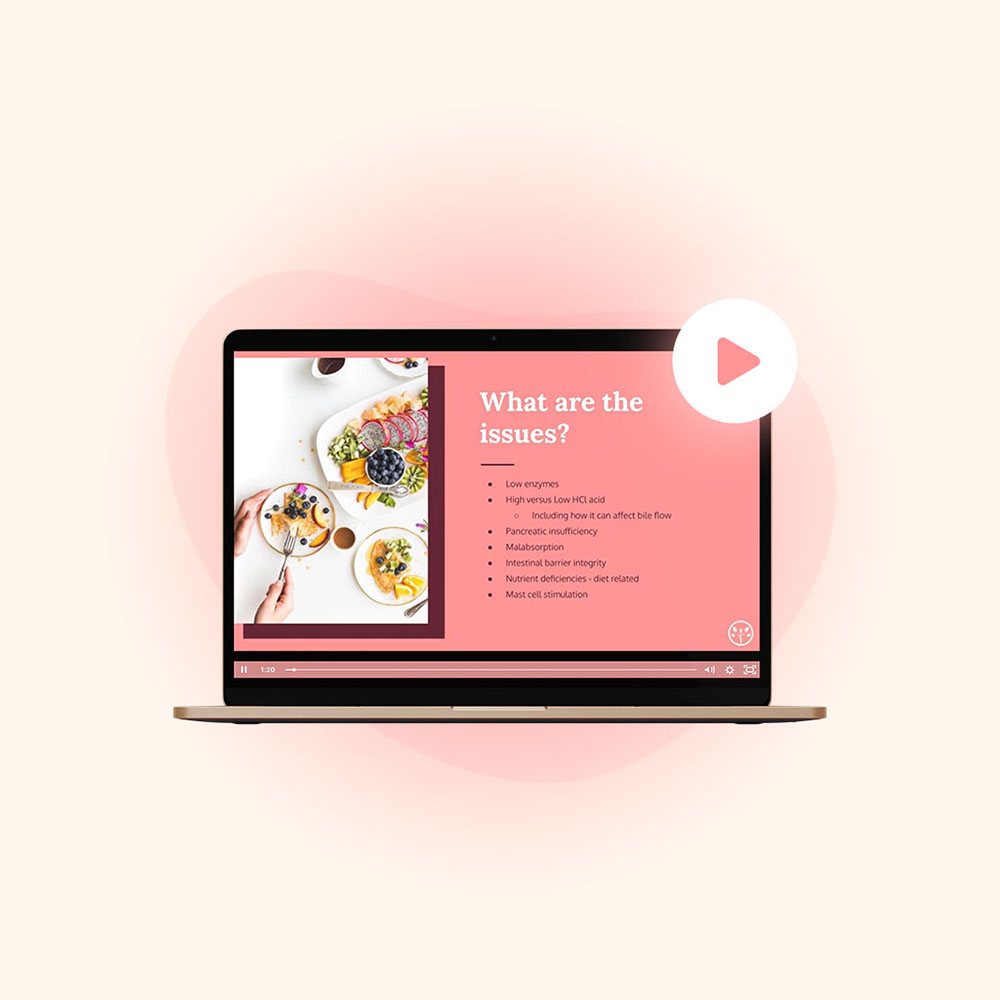 What's Covered In The 5 Intervention Modules

Step-by-step diet, lifestyle and supplement protocol

Each stage includes a full 4-8 week therapy program

Optional add-on interventions for your unique symptoms
Get The Course
Bonus Features
Detailed Supplement Guide with Full Protocol

Our supplement guide includes dosages, durations and recommended brands so there is zero guess-work.

Lifetime Access

Enrollment in this course means you'll have access for life. Return to the videos and resources at any time.

Food Diary eBook & Worksheets

We include resources to make your journey easier, such as a food diary to log your meals and worksheets to deepen your understanding.

Bonus Materials & Exclusive Discounts

Pair text with an image to focus on your chosen product, collection, or blog post. Add details on availability, style, or even provide a review.
Why Choose Us?

4500+ happy clients

100% science-backed, natural interventions

100% science-backed, natural interventions
What We Promise
30 Day Money-Back Guarantee

If, for any reason, you're not happy with the course within 30 days, simply return it for a full refund.

96% Success Rate

We want you to succeed. 96% of our students follow through with the course and experience positive results.

100% Science-Backed

This course was created by highly qualified scientists. All of our natural interventions are fully backed by research.

Simple & Easy to Follow

Our step-by-step instructions ensure there is zero guesswork. For each stage, you'll understand exactly what to do and why.
FAQs
Why is the course better than a low histamine diet?

By using a low histamine diet, you're only reducing histamine consumption to relieve symptoms, rather than addressing the root cause.

Prolonged dietary restrictions are stressful and limit nutrient variety, which can both worsen health in the long-term. Additionally, each time you're inevitably exposed to high histamine foods again, you'll develop symptoms.

Fixing your issue from the root is essential for improving overall health and returning to a state of balance.
How long does it take to see improvements with the course?

The rate of improvement can vary depending on your unique factors such as how long you've had the disorder, what the root cause is, and how fast your body adapts!

Just like on a low histamine diet, many people see improvements within 1-2 weeks, whereas others take a few months to see drastic changes. 

Results are cumulative, so those who progress more slowly will typically experience a series of smaller, cumulative improvements that build into a drastic change.
Is it necessary to take supplements on this program?

Not necessarily.

Supplements are beneficial because they provide concentrated doses of nutrients that are difficult to obtain from foods. These therapeutic dosages can speed up the healing process and improve results.

However, for those that do not wish to take supplements, this course still includes beneficial interventions related to diet, lifestyle, and targeting the root cause, as discussions on supplements comprise only 10-15% of the course info.
Is the program suitable if I have another intolerance or restriction?

Yes. Often, individuals with histamine intolerance may have another intolerance such as gluten or dairy. Additionally, many individuals may already be following a certain diet such as vegan, vegetarian, low FODMAP, etc.

The purpose of this course is to address and resolve the root cause of histamine intolerance, so combining the protocol with any additional dietary restrictions is perfectly fine.
How do I know if the course will help my specific symptoms?

Histamine intolerance has a wide variety of symptoms. Each person will have a unique set of these and we must ensure we address them uniquely.

Each intervention stage has "essential" interventions, which are aimed at targeting common underlying issues of histamine intolerance. 

Additionally, each stage has "optional" interventions that you can include or omit depending on your specific symptoms. 

An example is that we include an "optional" intervention for those with diarrhea. If the symptom is not present, you can skip this intervention.

These optional instructions are very clear and allow you to easily personalize the program.
What guarantees do I have that I will improve?

We offer a full 30 day money-back guarantee. If for any reason you are not satisfied with your course progress within the first 30 days, simply send us an email and we will refund your money in full.
What do I need to get started with the course?

We want you to succeed, so we've included everything you need to begin improving your health right away. Once you sign up for the course, you'll get immediate access and can begin right away from your own home. If you're ready, you can even start right now!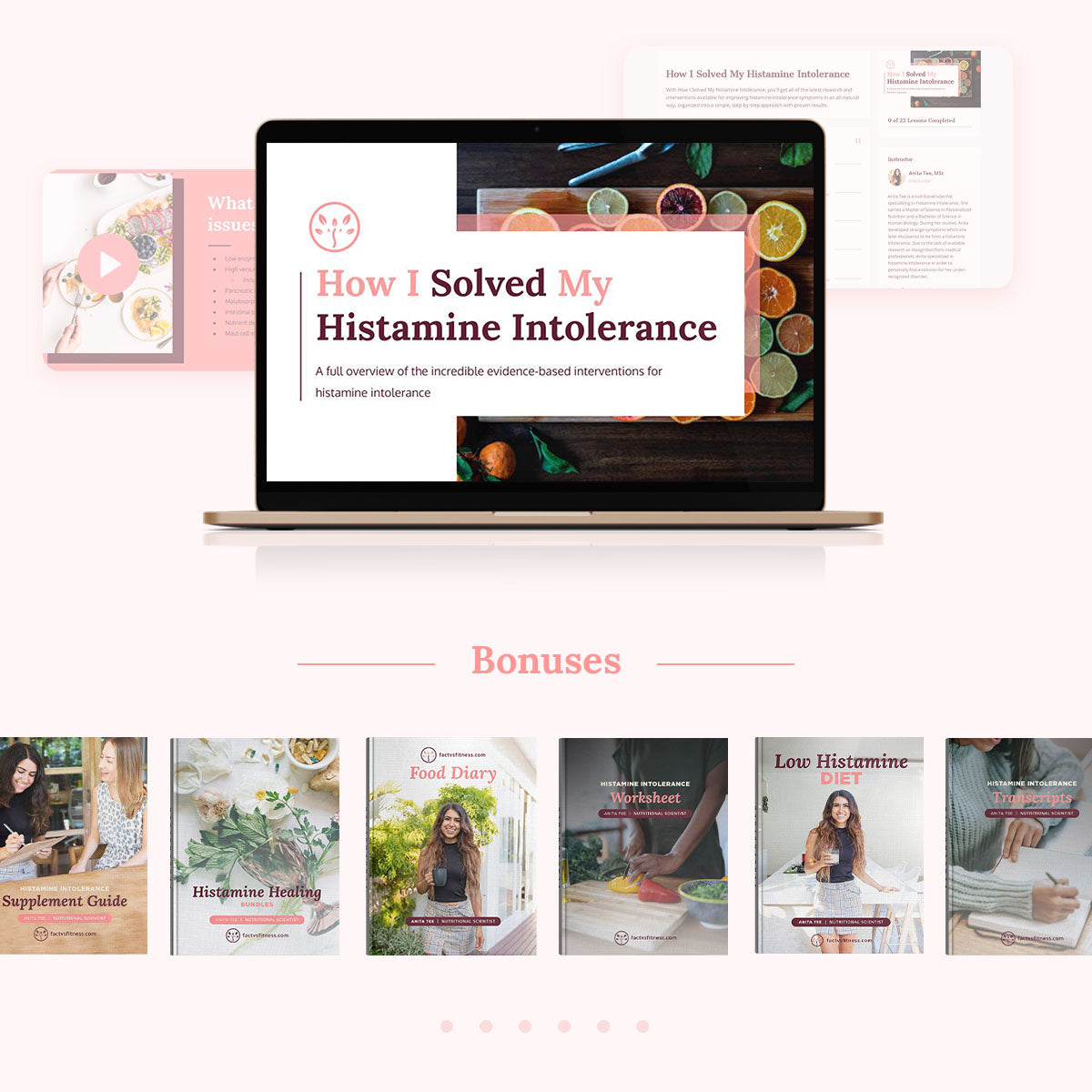 How I Solved My Histamine Intolerance Course
Regular price
$1,030.00 AUD
Regular price
Sale price
$1,030.00 AUD
Unit price
per
Sale
Sold out
This unique, 5-stage protocol will show you the step-by-step approach I used to resolve histamine intolerance, for good. In a 10 module, self-paced video course, you'll discover exactly how to improve and eliminate your histamine symptoms including skin rashes, anxiety, digestive symptoms, inflammation and more. By the end of this course, you'll be able to eat worry-free, with little to no restrictions or symptoms.
What's Inside

What this course covers:

Module 1: Introduction - Histamine 101, What to Expect, Who is Anita Tee
Module 2: Histamine Intolerance Deep Dive, Why You Have Symptoms
Module 3: How to Find the Root Cause of Histamine Intolerance
Module 4: The 5 Stage Approach - Remove Underlying Causes and Contributors
Module 5: The 5 Stage Approach - Replace Missing Nutrients, Digestive Factors and Other Essential Elements
Module 6: The 5 Stage Approach - Reinoculate Your Gut with Beneficial Bacteria
Module 7: The 5 Stage Approach - Repair Your Gut Fully, Including Leaky Gut Protocol
Module 8: The 5 Stage Approach - Relax into a Life-long Approach to Keep Symptoms Away
Module 9: How to Reintroduce Foods, How to Wean Off Supplements
Module 10: Additional Resources to Support Your Healing Journey

Course structure and what's included:

10 video modules (10 hours total)
Self-paced course
5 education modules, 5 intervention modules
Each of the 5 intervention stages includes dietary and lifestyle interventions and a detailed supplement protocol including dosages and durations
Each intervention stage takes 4-8 weeks
Supplement Guide, Low histamine Diet and Food Diary eBooks
Additional links, resources, worksheet and other bonus materials
Clear, step-by-step approach
View full details